To mark the centennial of the Battle of Vimy Ridge, and help educators and students think critically about primary sources, Historica Canada has created the
Think Like a Historian
series of videos and worksheets. The following activities provide an introduction to the Battle of Vimy Ridge and working with primary sources.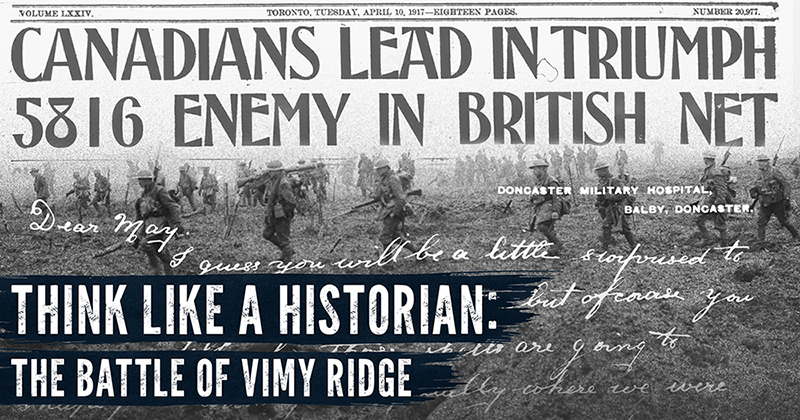 To complete these worksheets, students may want to watch the videos more than once. Turning on the subtitles can help second language learners understand the video. Watch the videos as a class at least twice before beginning the worksheets.
Visit
thinklikeahistorian.ca
to view all of the videos in the series and download additional free, bilingual educational resources. We hope this series will help you teach students how to analyze primary sources.
| Documents d'accompagnement pour cet outil d'apprentissage | Type de fichier | Taille du fichier | Action |
| --- | --- | --- | --- |
| Think_Like_a_Historian_Introduction_to_Vimy_Worksheets.pdf | PDF | 5,5 Mo | Télécharger |
| Primary_Source_Pyramid.pdf | PDF | 2,2 Mo | Télécharger |
| Think_Like_a_Historian_-_Vimy_in_Letters_-_Primary_Sources.pdf | PDF | 16 Mo | Télécharger |
| Think_Like_a_Historian_-_Vimy_in_Newspapers_-_Primary_Sources.pdf | PDF | 19 Mo | Télécharger |
| Think_Like_a_Historian_-_Vimy_in_Pictures_-_Primary_Sources.pdf | PDF | 3,7 Mo | Télécharger |
| Think_Like_a_Historian_Vimy_in_Letters_Worksheets.pdf | PDF | 8,8 Mo | Télécharger |
| Think_Like_a_Historian_Vimy_in_Newspapers_Worksheets.pdf | PDF | 14 Mo | Télécharger |
| Think_Like_a_Historian_Vimy_in_Pictures_Worksheets.pdf | PDF | 12 Mo | Télécharger |
Documents d'accompagnement pour cet outil d'apprentissage